Cru opened in October 2013, as Oxford, Ohio's first wine bar.
 We now have evolved into Cru Gastro Lounge. Our focus is not just on wine and spirits but on culinary delights. Cru Gastro Lounge now offers a great selection of appetizers, hand tossed, hand made dough pizza and some very unique casual plates with dynamic flavors. Click the menu button on the left to get the taste buds watering…..We still serve 20 wines by the glass, along with 26 specialty beers, a variety of vodkas, gins, scotches and a significant array of Kentucky Bourbons. We also have an extensive wine display throughout the restaurant to satisfy your varietal needs. Which by the way you can purchase to enjoy with your dinner or to take home and all retail (take out wines unopened) will get 20% off the list price. One important feature is that we no longer have a corkage fee!
Please be aware that Cru Gastro Lounge does not accept reservations.  We serve on a "first come first serve" basis.
In a wine oriented establishment, table turns tend to be longer than normal restaurant turns.
We encourage all to visit Cru Gastro Lounge.  Please be patient as we would like you to dine at Cru as much as you would like to dine at Cru!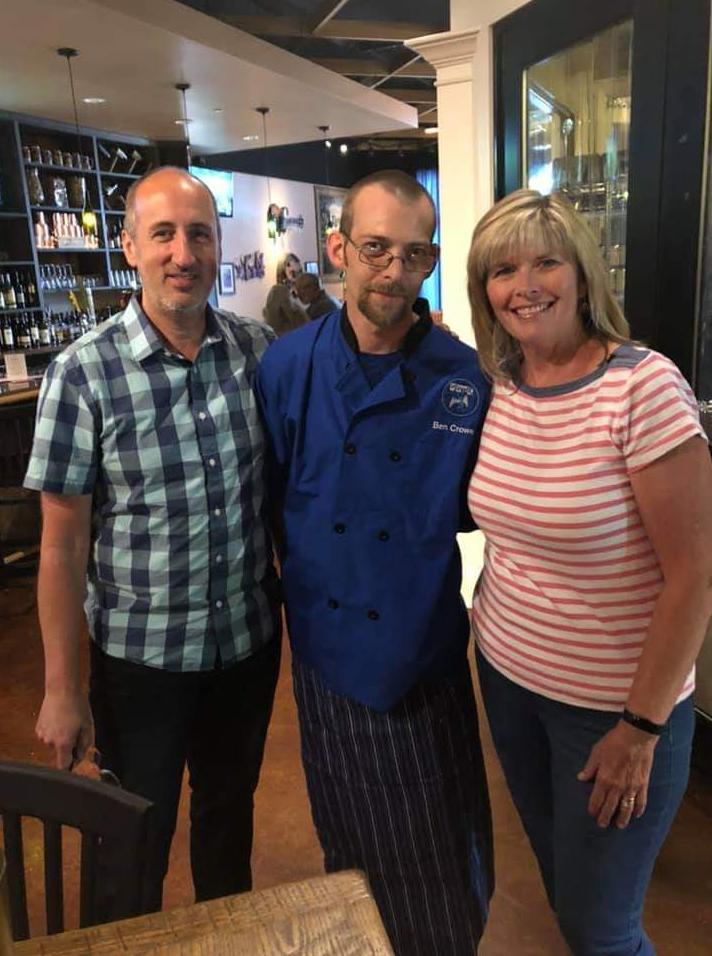 Chef Ben Crowe
My grandparents instilled manners, courtesy, respect, and above all hard work in every aspect of everyday life. "If you're gonna do something, don't half ass it!"
I started in the industry at 15 and have been a certified trainer and shift leader at multiple restaurants. The pandemic brought me to Cru Gastro Lounge when the industry opened back up and has been a great experience.
"Don't take life too seriously, you'll never get out alive."  Elbert Hubbard
Joan Rutherford
I love being at Cru and look forward to coming to work on a daily basis.
I have been at Cru since February 2019. I started as a part time server and quickly moved my way up to the lead server and Front of House Manager.
I grew up in restaurants and began working in the one my parents owned in middle school. I haven't found a career I like more. I love being around people and doing what I can to make others days better! 
Outside of working at Cru I'm a wife and mother of 3!